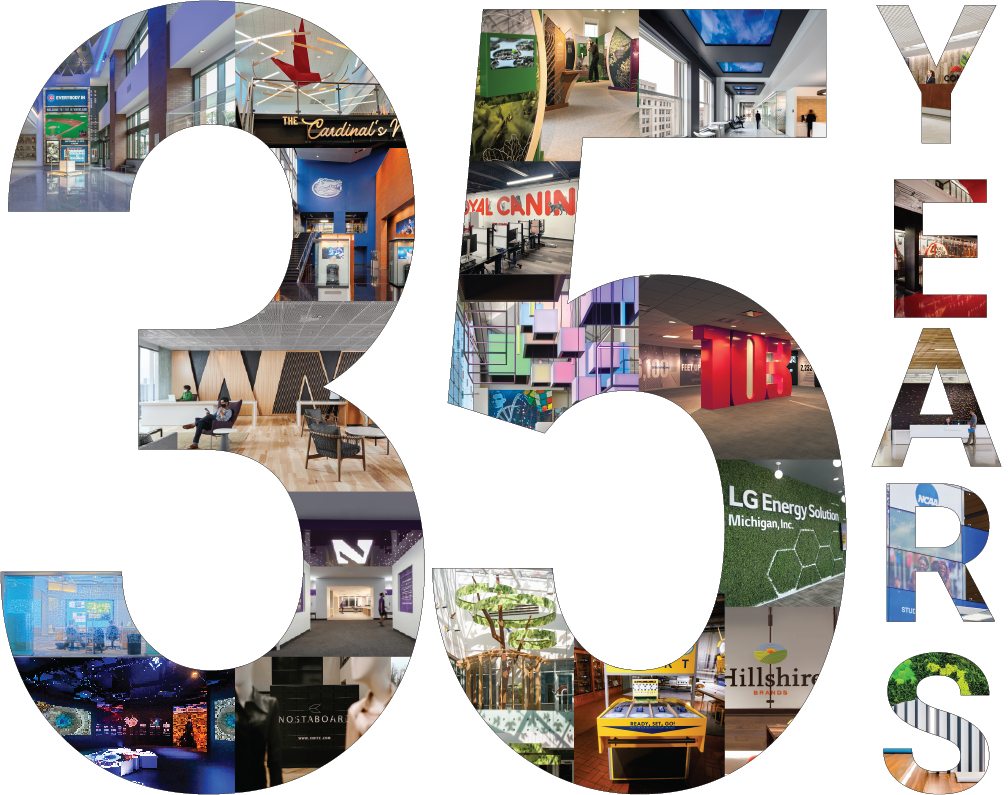 Xibitz, Inc. is proud to announce the celebration of its 35-year anniversary. Since its inception in 1988, Xibitz has produced thousands of projects worldwide and has been committed to quality and innovation, remaining at the forefront of experiential design fabrication.
Founded by Bob Siebelink, Lloyd Siebelink, and Doug Bosma, Xibitz started with a focus on trade shows and temporary exhibits. The operation outgrew the original facility and moved into its current home on Gezon Parkway in Wyoming. This move allowed Xibitz growth to perform permanent exhibits and branded-design work with some of the largest athletic, healthcare, higher education, and museums in the world. The company was acquired by Ben Metzger and Jeremy Miller in 2015.
"We are extremely grateful to our dedicated employees, loyal customers, and countless partners who have been integral in Xibitz success over the past 35 years," said Ben Metzger, Principal at Xibitz. "This anniversary marks not only the years of hard work and determination of our team but also the enormous potential that lies ahead as we continue to produce environments that capture the hearts and minds of those who experience them."
As previously mentioned, Xibitz has created thousands of exhibits over the years and developed the Nostaboard, a split-flap display product. With a commitment to innovation, the Nostaboard was originally conceived for the Chicago Cubs headquarters across from Wrigley Field. After installation, it received interest from professional sports teams to high-end fashion shows in Paris. Blending new technology with nostalgia for old train station displays, it captivates audiences by revealing images and creating an incredible experience for the viewer.
"When Xibitz began, never in our wildest dreams did we imagine we'd be where we are today," said Doug Bosma, Founder. "It's been the joy of a lifetime to know that in 35 years, we have made a mark on the most recognized brands, and more importantly, that our team in West Michigan is representing our heart and grit through craftsmanship, and showcasing that around the world."
The most notable projects in Michigan include the Sloan Museum of Discovery (2023), the University of Michigan Natural History Museum (2019), and the Gerald R. Ford Presidential Museum (2015). The largest project completed to date is the Perlan Museum in Reykjavík, Iceland (2017-2018), and the furthest project was completed for the Sydney Swans, in Australia (2023).